Welcome to the "Now Stitching..." Archive
If you've come from the main "Now Stitching" page, this page will show you the steps that went before. It may take a while to load, since it covers lots of territory. Once it does, though, you'll be able to trace projects from beginning to end on one page.
If you want to see the latest posts, click here to go directly to works in progress now.
I don't post new patterns until I have stitched them. But I can give you a sneak peek at what's in the works. Every few days we post a screen shot during design or a picture of designs as I'm stitching them.
This page is the history of those posts.
---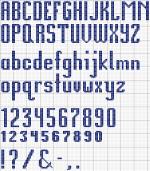 Click on the image above to see a larger picture. Use your browser's back button to return to Now Stitching.
A classic looking alphabet should be included in every collection. This one features straight letters that are an inch tall on 14-count fabric. It is easily readable, and the clean design won't detract from any decorative cross stitching surrounding it.
Click here for a printable chart for this cross stitch design.
Next up on Now Stitching, even more free alphabets!
Keep on Stitching,

---
April 23
He Is Risen Cross Stitch Version 2 Completed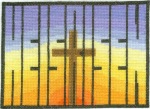 Click on the image above to see a larger picture. Use your browser's back button to return to Now Stitching.
Click here for a printable chart for the He Is Risen cross stitch design.
Next up on Now Stitching, more free alphabets!
Keep on Stitching,

---
April 14
He Is Risen Cross Stitch Version 1 Completed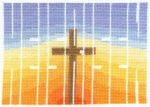 Click on the image above to see a larger picture. Use your browser's back button to return to Now Stitching.
So often situations arise that make progress slower than expected. But life takes priority and people, especially children, need attention in the moment.
Jesus said, "Let the little children come to me, and do not hinder them, for the kingdom of heaven belongs to such as these." --Matthew 19:14 (New International Version)
Thanks to the timeless message on this cross stitch, it is just as powerfull any day of the year. Therefore, I am thrilled to show you "He is risen." The design is complete, if you prefer to leave the background white. Now, I'm anxious to see how it looks when the letters are surrounded in black stitches. You can choose the one you prefer.
The good news . . . you'll have plenty of time to stitch it in time for Easter 2010. The Best News of all . . . He is risen!
Keep on Stitching,

---
April 2
He Is Risen Easter Design
Click on the image above to see a larger picture. Use your browser's back button to return to Now Stitching.
Sunrise always brings to mind the prospect of a new day, new beginnings. Particularly on Easter morning, it reminds us that Christ is risen and of the special meaning of beginnings He brings with Him.
I have two versions of this design so far. One uses a white background, the other black. I'm not sure which I prefer, but of course, you could stitch it either way just by changing the floss color.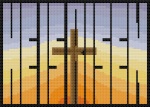 Click on the image above to see a larger picture. Use your browser's back button to return to Now Stitching.
The black background might serve to emphasize the triumph of good over evil. The white background centers thought on the purity and goodness of Jesus. I can imagine differing interpretations for each. What do you think?
Let me know which you prefer and why using our Contact Us page. I'll post the most persuasive response here. Make your response as detailed as you like.
Originally, I thought of stitching on black Aida cloth, but I realized that it would darken the bright colors. It should be stitched on white, whichever choice you make for floss.

Click on the image above to see a larger picture. Use your browser's back button to return to Now Stitching.
Here is the design in the early stages of stitching. I'll post every few days in Now Stitching as this progresses.
Keep on Stitching,

---
March 27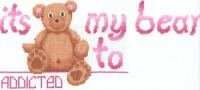 Click on the image above to see a larger picture. Use your browser's back button to return to Now Stitching.
The lettering for this "bear to cross" design is going quickly. Words usually do. There is very little guesswork about where the next stitches go. And these, in particular, are stitched in five graduated shades of pink, three rows for each color. Once you have the first row cross stitched for each character, the counting, from then on, is a breeze.
I now have several alphabets in the "to be stitched" pile. My kingdom for another set of hands! if you ever need an alphabet that must be certain number of stitches high and wide, contact me. I may already have one designed, and I'll gladly put it at the top of the stack for you.
I have a very different Easter design that I'll probably tackle next. It will be a terrific graphic for our Cafe Press products, too. The family tree has been put on the back burner while some of these holiday designs take precedence. I'll get back to them soon.
Keep on Stitching,

---
March 25
Stitching Without a Hoop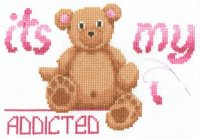 Click on the image above to see a larger picture. Use your browser's back button to return to Now Stitching.
On a longer project, such as "My Bear to Cross," the way we handle fabric becomes even more important that usual. There is more possibility for wear and tear on the fabric and stitches and more chance for it to become dirty.
These tips help prevent excessive handling.
When working without a hoop, I find it helpful to stitch from left to right. As I complete a section, I roll the completed area and pin it loosely. This roll then fits comfortably in my left hand, and the stitches and fabric are protected from wear and soiling.
Any stitches calling for white or near-white floss are stitched near the end of the project to prevent soiling. If the project is wide, like this one, I'll often roll and pin a portion of the right side as well.
I stitch without a hoop or frame. I feel I have more control to manipulate fabric and thread, particularly important when using the sewing method of cross stitching.
Some express concerns about cross stitching in this manner. Pull the thread too tightly, and the fabric distorts and puckers; too little and the stitches are loose and sloppy.
But as with knitting, crocheting and other needle crafts, it doesn't take long to develop a feel for the correct amount of tension and it soon becomes second nature. For me, the increase in productivity outweighs the adjustment period for learning the correct stitch tension.
All of these factors contribute to projects that finish cleaner and without any signs of wear.
Keep on Stitching,

---
March 23
My Bear to Cross Taking Shape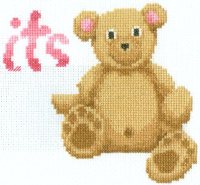 Click on the image above to see a larger picture. Use your browser's back button to return to Now Stitching.
As I was working on this little bear, it suddenly dawned on me how much difference it makes to print patterns on card stock. I've been doing that for the last several designs, and I noticed some of the dividends of using this simple tip.
I carry my work from room to room often. Since I don't have a specific place to stitch in every room, I often prop up my chart wherever I can at the moment: the bookshelf, an end table or lamp. Most patterns won't hold up for much of that.
With card stock, I don't have any folded-refolded areas in which the print is starting to disappear. The image remains as it was when I first printed it.
You can get card stock for your inkjet or other printer wherever you buy other papers. Stores such as WalMart, Staples and Office Max have such stock at reasonable prices, and you can certainly find them at stationary stores.
Just make sure that the stock you're considering is recommended for use in your printer.
I'm starting on the lettering for this design, so be sure to come back to Now Stitching soon.
Keep on Stitching,

---
March 19
My Bear to Cross
Counted cross stitch is one of the most popular of the needlework crafts. To its fans, the reasons don't matter much.
We've heard for a long time that people are either left-brained or right brained. Creative or logical. Artsy or organized. This always made sense to me, when looking at others.
However, I didn't fit into those categories so neatly. I have always been artistic. But in my corporate days, I worked in administrative management with accounting and budgets, processes and procedures. I thought I was an anomaly.
When I rediscovered embroidery, it obviously fulfilled my artistic side. But counted cross stitch, with row after row of neat little squares to fill in, also spoke to my organized nature. I believe that this popular craft is so widespread because it appeals to the creative, to the logical, and to those of us who are a little of both.
With this in mind, I designed this little "addicted to cross stitch" bear. And check out our shop at Cafe Press, where you can find lots of products displaying this same sentiment. How did they used to say it? . . . wear it loud, wear it proud!
Come back to Now Stitching often to see how he shapes up.
Keep on Stitching,

---
March 10
I just finished the outline alphabet, so I'll post it within a day or so. If you don't need an outline, you can use this one as a regular alphabet just by filling it in as I have done with the 'a' and 'b' at the bottom.
Keep on Stitching,

---
March 3
Click here for the Mother's Day Cross Stitch Chart
Here's the finished pattern for the Mother's Day Design. Remember, there is lettering for "Grandma," too.
Keep on Stitching,

---
March 1
Find the Missing Leaf
It happens to the best of us, and the rest of us, too!
As I was busily working to finalize my pattern for the Mother's Day Floral, I was getting excited about getting it up quickly so others have time to stitch it for this upcoming Mother's Day. As I was incorporating my stitching changes on the chart, I realized that I had left out an entire leaf!
Not on the pattern... on the stitching! So, the image above is what the finished piece will look like. Almost. Can you tell where the missing leaf belongs?
A few more stitches, some final touches on the chart and instructions, and the image and pattern should be up within a few days.
---
Italic Outline Alphabet
The outline alphabet is moving along nicely, with only the rest of the lower case letters and the punctuation remaining. Stitch it this way, or fill it in with cross stitches if you prefer.
Keep on Stitching,

---
February 18
Italic Outline Alphabet
Here's the beginning of one of the promised outline alphabets.
Outlines seem to have "weight" by roping off some space rather than filling it with color. They work well in places where the letters need to fill an area but you don't want to overpower the surrounding design elements.
Of course, if you like the alphabet but want it filled in, you can certainly do that, too.
Keep on Stitching,

---
February 12
Completed Curling Ribbon Alphabet
Click here for the Curling Ribbon Pattern
Curling ribbon makes a nice finishing touch on any present. This alphabet mimics that effect. As with most of my alphabets, I've designed narrow versions of some of the wider capital letters for those times when you must squeeze text into a small space.
One difference in these letters is that you can alter the "curl," from a simple angled end to a full circle. (See the final row in the pattern pdf.) You can change the "length" of the angled end, as shown in the "m" and "n" examples.
Keep on Stitching,

---
February 7
Mother's Day Design Suggests Another Alphabet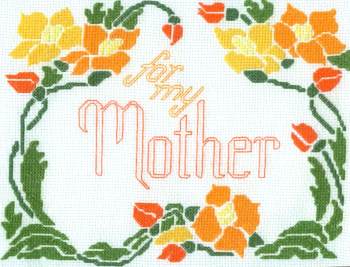 Alternate Design with Outline Text
The cross stitches are now done for the main portion of the center florals. With the lettering next, I'm surprised how much I like it with only the backstitched outline. Because of this, I'll wait to add cross stitches in the lettering until the rest is finished, so I can decide whether I like it better with only the outline.
I also like the florals and can imagine calling it complete as is, but I will finish it as called for in the original design. I'll stitch the blue circle next and follow with the border. As I complete each remaining step, I'll be ready to rip out stitches if I think the design works better as is.
By the way, I'm really beginning to like the lettering in this project, so I will use it as the basis for a couple of new alphabets. Check back with Now Stitching to see how they progress.
Keep on Stitching,

---
January 31
Filling in the Mother's Day Design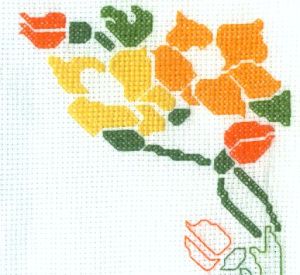 Mother's Day Design Taking Shape
As I had hoped, filling in the outlines goes quickly. This is a different look from our traditional counted cross stitch patterns, as there are no graduating color shades. Just bright, bold, clean.
The only area that takes a bit more care is in the cross stitches adjacent to the outlines. Here, I have to be sure that my diagonals do not lay on top of the backstitches. By placing the point of my needle on the inside of the backstitch, I take care not to cover up or split the floss in the backstitch.

As you place your cross stitches adjacent to the backstitches, gently nudge the existing stitches aside while inserting the tip.

Closeup View.
Even so, I still believe a youngster could stitch this design.
Keep on Stitching,

---
January 29
Mother's Day Outline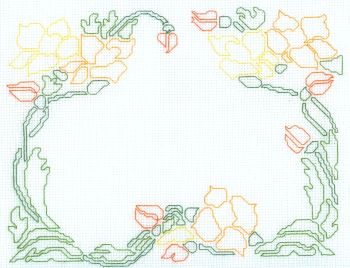 Mother's Day Design Outline
I laid down the outlines for the central floral design. It went very quickly, so I'm anxious to begin filling them in with cross stitches.
I will wait, however, to backstitch the border. I actually created three different border styles, and I have not decided which I prefer. One uses browns in place of the blue and roughly resembles a trellis.
After I fill in the central cross stitches, I will stitch an inch or so of each directly on this piece and make my decision then. If there isn't a clear winner, I'll stitch one for the photograph and give you charts for each.
As I look at these outlines, I am reminded of the simple beauty of this basic stitch. Many of the pillowcases and towels I embroidered as a youngster were outlined alone.
Though I remember the stitch being called a "backstitch," now I know it was technically a "stem stitch," in which each individual stitch overlaps the previous one. (I have not seen this stitch used in standard cross stitch designs.)
I believe kids will be able to stitch this design. It should also be an ideal project to take along with you. After stitching the outlines, you can just carry your floss, needles, scissors, etc., without having to worry about fumbling with a pattern!
By the way, I'm taking some license in using the term "countless" cross stitch to describe this type of design.
I saw that term applied to a technique in a cross stitch magazine from the late 80's. Contrary to our approach here, they used transfer paper to draw the pattern on the fabric first, followed by outlining and filling in the shapes.
By skipping the transfer step that means you still have some counting to do; you will just count LESS.
Keep on Stitching,

---
January 20
Mother's Day Design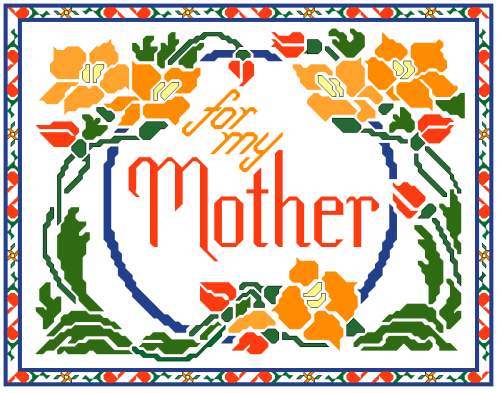 Mother's Day Design
The inspiration for this design came from a desire to do a "countless" cross stitch design. Countless design simply means that entire blocks of contiguous stitches consist of one color, therefore no need to do as much counting of stitches.
Just the opposite of usual procedure, you do the backstitches first, outlining each block. Then the only thing you need to do is put the right color of stitches in each block, filling it completely before moving to the next block.
It's a nice change of pace from the more common counted cross stitch, which requires a lot of... well, counting.
This one also has an appearance that reminds me of Tiffany lamps or stained glass windows, without being too obvious.
One production note: We've yet to see a computer monitor that represents oranges correctly. They all come out looking like some foreign mustard!
Anyway, here are the floss colors selected for this design.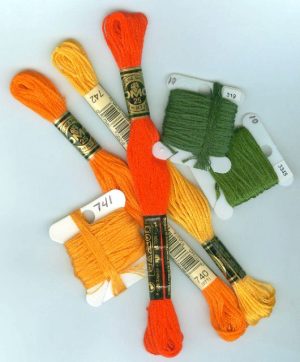 Floss for Mother's Day Design
In the real world, the colors are more vibrant, the lighter orange is much less yellow and the darker green is much darker. Of course, depending on how your monitor is set, these descriptions may bear no resemblance to reality!
The best way to check colors is to refer to a Color Card such as the one made by DMC that has a product number of W100TC (and is spelled "Colour Card"). It contains a small floss sample of each color made by the manufacturer. If you can, get one with actual floss rather than the newer ones with color photos of the floss.
Both will do the job, but there's something to be said for seeing the actual floss. If you can't find one of the discontinued color cards, check eBay. I've seen them available there, but read the auctions carefully to make sure of the type of card being offered.
We'll include lettering for "Grandma" and "Grandmother" in the final pattern.
Check back with "Now Stitching..." for more about Countless Cross Stitch.
Keep on Stitching,

---
January 13
Ribbon Alphabet Nearly Finished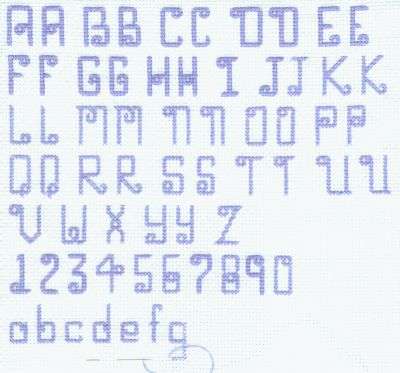 Ribbon Alphabet
While working on this alphabet, I used a tip I want to pass on. I sometimes have a 3 to 4-inch length of floss a the end of a letter, too long to throw away but too short to make more than just a few stitches in the next letter.
So, to make use of this unused thread, start backstitching. What's that, you say? Wrong number of strands? Yes, so pull out the appropriate number of strands, backstitch until you run out, then thread another loose strand... and so on.
For example, imagine working with three strands. You get near the end of the area you're working and you have 3 to 4 inches of floss left. The pattern calls for backstitches in only one strand, so you "un-thread" two strands.
Work as far as you can, then bury the end. Thread the next remaining strand, backstitch some more. Do the same with the last strand.
It may seem like overkill in the thrift department, but, what can I say? I'm cheap. Also, it cuts down on the little lengths of thread I have to pick up. I hate those.
Keep on Stitching,

January 6
Click here for the Hope Christmas Ornament Pattern
---
Click here for the Peace Ornament Pattern
Keep on Stitching,

---
December 19
The Beginning of a Ribbon Alphabet
Ribbon Alphabet
Do you know people who go all out in the way that they wrap their gifts? Gorgeous packages, decked out in beautiful paper with elaborate ribbons? They look (almost) too good to unwrap.
I wish I could say that was me. But I am a fan of curling ribbon. Many colors are available on large spools that you can tie together in many combinations to fit any occasion. I love that feeling of the ribbon being pulled between my thumb and the scissor blade, and I still can't fathom how they make straight ribbon curl with this one simple process.
With these thoughts, I designed this ribbon alphabet. Just like curling ribbon, it will dress up your words, no matter the occasion.
(Though I always complete the stitching before I put up the chart, if you need it immediately, email and I can send a PDF of the entire pattern as is.)
Keep on Stitching,

---
Hope Ornament Progress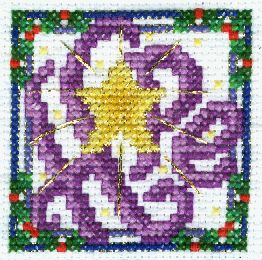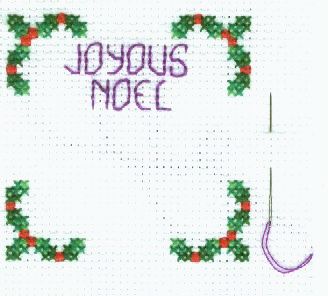 The third ornament in this series is nearly complete. The stitching on the front is done, and the back needs only a few words to complete it. Then, like the others, I will half-stitch the sides together, add a ribbon hanger, pad it, then finish off the edges as fringe.
---
Peace Almost at Hand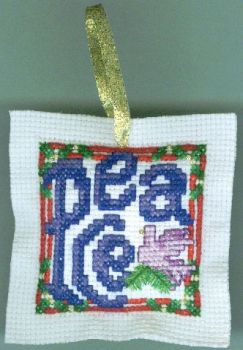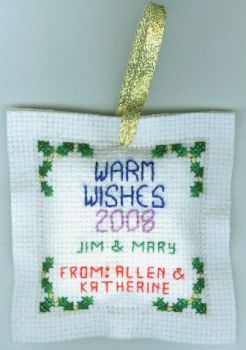 The Peace ornament will be finished as soon as I can "fringe" the edges.
Keep on Stitching,

---
December 6
Bookmark Pattern Ready for Printing

Click here for printable bookmark pattern
Keep on Stitching,

---
December 5
"Joy" Ornament Pattern Ready for Printing
| | |
| --- | --- |
| | |
| "Joy" Front | "Joy" Back |
Click here for a printable pattern for this ornament.
Keep on Stitching,

---
Progress on "Peace" Ornament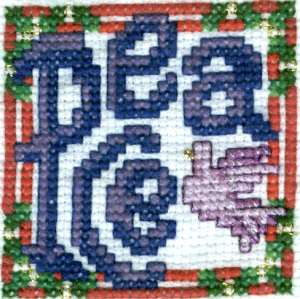 "Peace" Ornament Front
The Peace cross stitch is coming along nicely. All that is left on the front is the branches beneath the dove. The back will be stitched with a similar sentiment as in the "Joy" Christmas ornament preceding it.
I like the way these are coming together as a set, while appreciating the characteristics that make each one unique. The next ornament in the set will display the sentiment "Hope."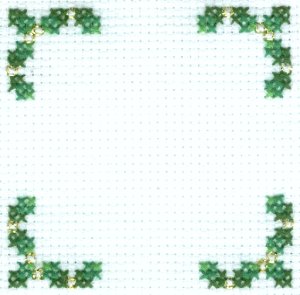 "Peace" Ornament Back
Keep on Stitching!

---
"The Word" Bookmark Progress

"The Word" Bookmark Front
In the rush of getting some Christmas designs up in time for you to stitch them, I set this bookmark aside. I was able to pick it up again and finish it in one fell swoop (as my grandmother would say).
I'm glad to have it finished. It's a another nice item that's quick to finish in time for the holidays. You can slip this inside someone's Christmas card or a gift book.
This design may look complex, but it's quite easy to stitch. What's better than that!

"The Word" Bookmark Back
Photographs can't do justice to this side! In person, it has a sparkling, opalescent, whiter-than-white quality that I just can't capture in a low resolution picture.
It's gorgeous!
I'll have this pattern up for printing tomorrow.
Keep on Stitching,

---
November 26
"Peace" Christmas Cross Stitch Design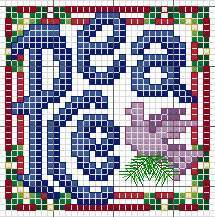 "Peace" Christmas Design
For the second in the Christmas series, I designed "Peace" to complement "Joy," below. Though distinctive, it has a similar appeal.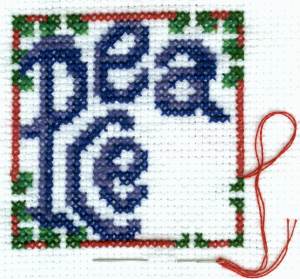 Beginning Stitches
At this stage, I always worry a little about a design. Is this going to work? I try not to leave it looking like this for long!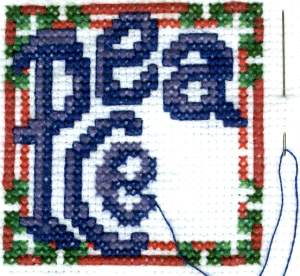 Backstitches
I'm starting to feel relieved. Can't wait to do the dove!
As with the previous design, I completed the backstitches for the background elements before working on the dove and branches that will overlay them.
Within a couple of days, I hope to have the pattern posted for the "Joy" design, and an update of "The Word" bookmark.
Keep on Stitching!

---
November 22
"Joy" with Fringe
"Joy" with Finished Fringe
Finished! The fringe sets off this design nicely.
When I put up the pattern page for this design, I will give full instructions for adding the batting and joining the front and back, as well as for making the fringe.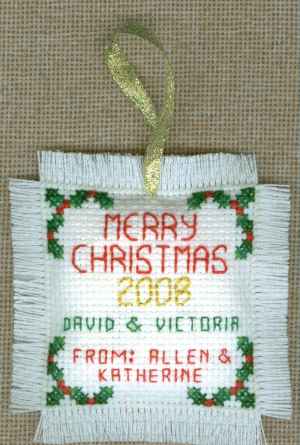 Reverse Side
I'm surprised how nice the back looks. I thought it might need something more, but the seam makes a sort of invisible border around the edge. I now like the back just as much as the front.
The chart and instructions should be up mid-week.
Keep on Stitching!

---
November 21
Joining the Sides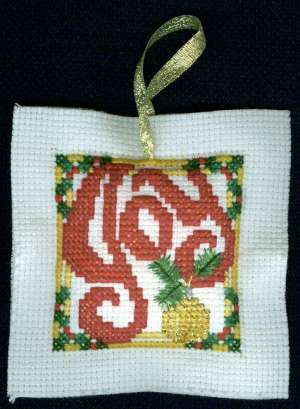 "Joy" with Batting
I added sewed the two sides together, batting tucked inside, and added a golden ribbon hanger. Starting to hang together. (Pardon the pun.)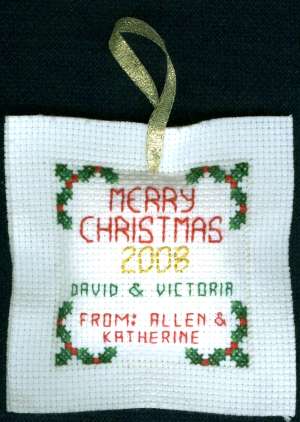 "Joy" in Reverse
I left lots of fabric around the design to allow for fringe. Tune in for the next step.
Keep on Stitching!

---
November 21
The Back is (Oops! Almost) Done!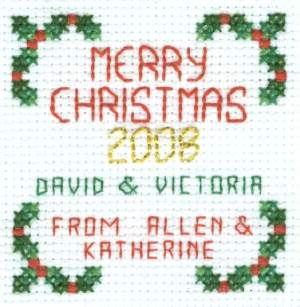 The Reverse Side
This side went very quickly! Compared to the front, it has much less detail. It adds a touch of class and finish to the project.
I just realized I haven't done the French knots yet! They will form the colon after "From." You can use a dash, if you prefer, but, contrary to what some cross stitch experts believe, the French knot isn't that difficult. See my take on French knots including detailed illustrations and a video.
This might be a good place to recommend that you always sign the back of your work in some way. On a piece like this you should use your name, of course. But for other works consider using your initials. This will remind someone, perhaps far in the future, just who it was that made that nice cross stitch!
This design can be used for greeting cards, ornaments, or in the corner of table linens, napkins, towels, pot holders and many other things. In this case, the first in a series, I'm making an ornament as a gift.
From here, I'll put in some batting, connect the two sides and... well, you'll see.
Keep on Stitching!

---
November 20
Details Taking Shape!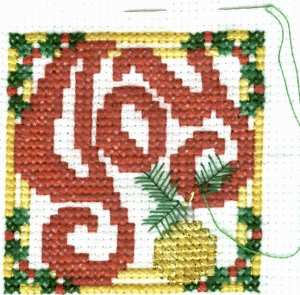 Beginning Evergreen Detail
I usually wait until the entire project is done before doing the backstitches, but in this case I needed to finish the items in the "background" before adding the pine needles over them. The needles themselves consist of straight stitches.
I also added golden highlights to the ornament.
The Completed Front
Here, the entire front of the project has been completed. I filled in the evergreen sprigs, and you can see the golden highlights on the body of the ornament.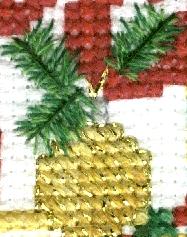 Needles and Highlights
This picture shows the needles and gold highlights of the ornaments a little better. In person, of course, they sparkle as you turn the cross stitch.
What's left? The back. It will consist of some more holly, "Merry Christmas 2008" and the To: and From: information.
Happy Stitching!

---
November 17
Adding Backstitches for Definition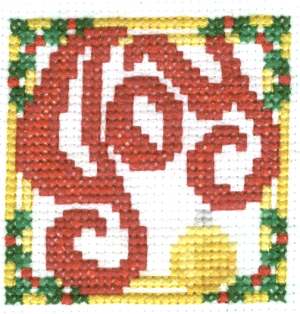 With Some Backstitching
With some backstitching, this design begins to have a "finished" appearance. It's especially noticeable in the holly berries and letters. (Compare it with the picture in my last post, below.)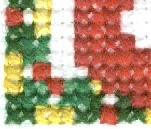 Backstitch Detail
Remember that I decided not to backstitch the holly leaves to let them remain "spiky," so all that's left to do is add detail to the ornament and add the evergreen branches. Little by little...
Keep stitching,

---
November 15
"Joy" Gets a Border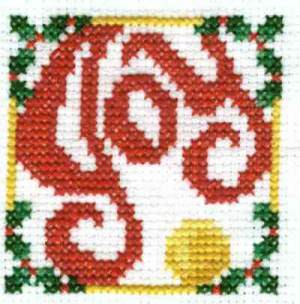 Experimenting With Holly Providing the Corners
As I began stitching this design, I thought that it might look better with the holly filling out the corners instead of the border I had planned. After seeing it (pictured above), I decided that the original design looks more complete.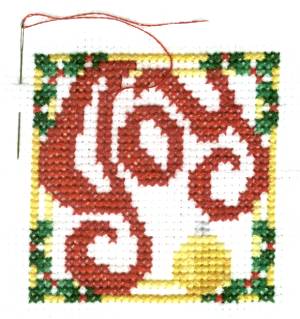 With Full Borders
Here it is with the outside border finished, the inner border added and the ornament nearly completed. I'm beginning to backstitch the letters. Usually, I would not backstitch until all cross stitching is finished. But since the needles of the evergreen sprigs will be on top, I need to finish off the letters first.
One change I will make, though, is to leave the holly without the usual backstitch. The "spikey" nature of the leaves stands out better without the rounding that comes with backstitch.
It's beginning to shape up!
Keep stitching,

---
November 14
Joy to the World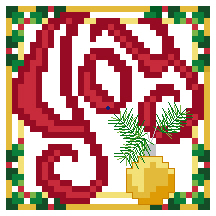 "Joy" Christmas Cross Stitch Design
"Joy" nicely sums up our feelings of Christmas. Its rounded letters convey warmth and closeness.
This design can be used for greeting cards, ornaments, or in the corner of table linens, napkins, towels, pot holders... wherever your imagination takes you. Use it as a gift tag on a special present, with To and From names stitched on the back.
I'll give some ideas on the pattern page for this design. This is what I've stitched so far.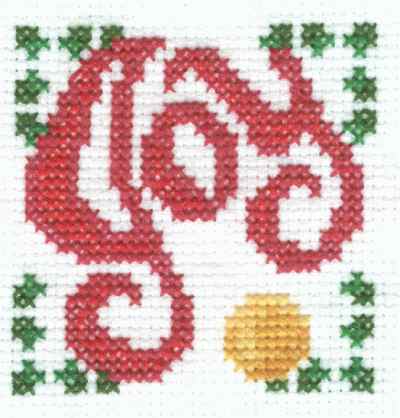 Joy Christmas Cross Stitch in progress
The holly berries, border and branches remain to be finished. This is a quick project so it will be completed soon.

---
November 10
Thanksgiving Alphabet Ready for Download
I finished the Thanksgiving alphabet and posted it on its own pattern page. It turned out just the way I wanted!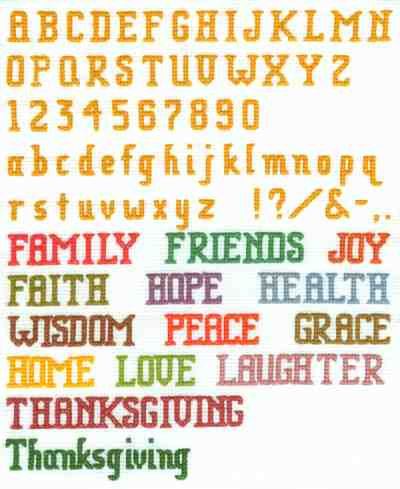 ---
"The Word" Bookmark Gets Some Sparkle

(Click image to enlarge.)
I added opalescent floss to the border on the front of the bookmark. It's difficult to do justice to the effect with a quick scan, but you can begin to see the sparkle. When I finish, I'll take a well lit picture of it.
For now, here's a close up that shows it off a little more.

Happy Stitching!

---
November 7
Happy Thanksgiving!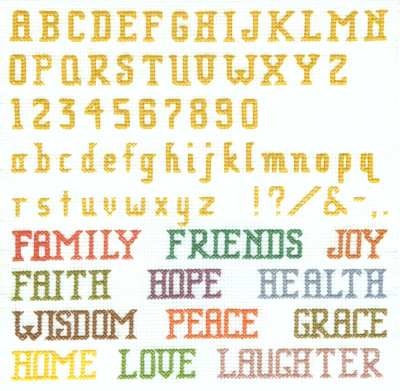 I'm working on a Thanksgiving Alphabet. Of course it can be used for other things, but I designed it with Thanksgiving in mind.
In addition to the alphabet, I'm stitching 12 different blessings to be thankful for. You can use the alphabet to add more of your own. Personalize it as much as you'd like.
I imagine each word stitched on a napkin or place mat to be used at your holiday dinner table. Stitch them in rich fall colors or all in a single color.
You could stitch one word after another in one continuous line to form a border around a tablecloth or table runner. Separate the words with a single cross stitch dash. You can use these again at Christmas or every Sunday if you like.
Those are my thoughts for right now. Check in and see how this comes out, and watch for the finished pattern soon.
For more help selecting and adapting cross stitch alphabets, click on the "Alphabet 123's" button on the left menu of the Home page. The 123's of the Cross Stitch Alphabet on that page explains how to adjust to fit the space you have, as well as tips on how to customize letters that happen to fall together.
I think you'll love working with alphabets even more!
---
"The Word" Bookmark Cross Stitch
This very detailed bookmark will be the first in a series of such designs. The foreground will read, "In the Beginning was" and the background will say, "The Word."
I've nearly finished stitching the front of this design, as you can see. I will add some opalescent floss to add some sparkle.
I'll post photos of the back, which contains the remainder of the bible verse, as it progresses. It consists of "barely-there" silver opalescent floss. The border will be white on white, over-stitched with Light Effects floss to add sparkle.
When both are finished, I'll join the two pieces. In addition, the ends will have short fringe.
More later,

---
Return to the top of this page
Go to Better Cross Stitch Patterns Blog
Return from Now Stitching... to Better Cross Stitch Patterns Home Page