Free Cross Stitch Alphabet 05
"Flourishes"


For those projects that need a little simple elegance, cross stitch alphabet 05, offers just the right balance of simplicity and grace
.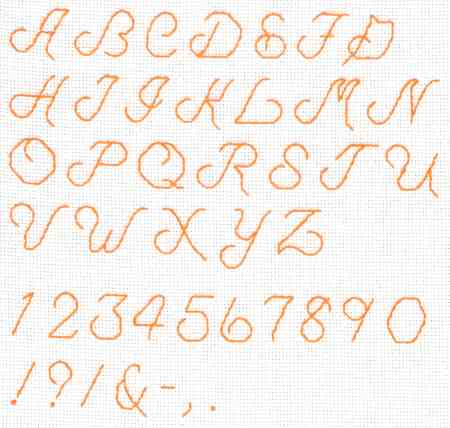 Click here for Alphabet 05 pattern
For lower case letters that go well with this alphabet, click here for Alphabet 04.


Stitch details for cross stitch alphabet 05

The free cross stitch alphabet, "Alphabet 05," is stitched on 18-count Aida over two threads. I used DMC floss:
2 strands for backstitches
2 strands for French knots
Description:
Line letters, script/italics
Characters Included:
Upper case letters
Numbers
Punctuation
(Use Alphabet 04 for lower case)
Height:
The upper case letters are 6 stitches high (not including the stylized stitch extending down at the lower tip of several letters (ex: A, H, K).
The majority of lower case letters in Alphabet 04 are 6 stitches high.
Width:
These letters have varying widths.

Stitch complexity

Click on the above links to learn any unfamiliar stitches.
Floss:
Change the floss color to reflect your tastes and to coordinate with the rest of your project. Use the same number of strands that you are using throughout the rest of your cross stitch pattern.

How to fit text into a design

To learn how to select and adapt cross stitch alphabets, click on the "Alphabets" button on the left menu or click on "The 123's of the Counted Cross Stitch Alphabet". Click here for a printable cross stitch pattern for this alphabet.
A new window will open so you can also keep your place here.
---
Home ›
Cross Stitch Alphabet Patterns
› "Flourishes" Alphabet 05