Don't settle for "almost"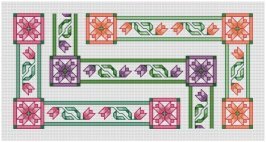 What do you do when you can't find the perfect cross stitch chart? It happens more than you'd think.

Even though we're no longer limited to the patterns we can find in magazines or at the local craft store,
Even though we have cross stitch designs to choose, from as far as the internet reaches . . .
Birth records? Yes. Christmas ornaments? You bet. But where is the pattern for when
one dispairs at the loss of a loved one, or
the loss of a marriage.
Where is the design encouraging someone who is
starting a new journey in life,
or bravely meeting a difficult challenge.
Often, we find comfort and meaning in a special verse, a poem, the lyrics of a song. And when we do, it's in our nature to want to share it through a craft we love.
I think that's why cross stitch alphabets are some of the most popular and sought-out designs. That's also why I am so excited to begin designing
a collection of counted cross stitch borders for you.
It's one more design element to help you on your path to creating your own cross stitch patterns. My tutorial, Alphabet 123s , about how to fit text into a design space, is also very popular. So on a similar page, Cross Stitch Borders , I have used this first border pattern to also show you how to
change the size
change the colors
change the design elements
to make this cross stitch border pattern truly your own.
In a website, every page must have a unique file name. I smile when I think about naming my first set of cross stitch letters "Cross Stitch Alphabet." Little did I know then that I would design and publish 34 cross stitch alphabets and counting!
That's what I'd like to do with borders - continue to design
a large library of cross stitch borders for you to use.
Click to see this first cross stitch border, named
"Forever Tulips."
I can't wait to see what you do with it!