Holiday Alphabet 24
Free Printable Chart


In tall, thin letters, this Holiday Alphabet design makes a great Christmas alphabet. Change the color, and you can use it throughout the year. Very nice for monograms, too, and all done with easy backstitching!
As a variation, you can close the gaps in some of the letters.
Note the p, h, b and e, below, compared with their counterparts in the full alphabet.
To make those letters, just add an extra stitch where appropriate, as shown in the words "Alphabet Stitch.
There are also some alternate letters, for example, as shown by the t's in "Stitch."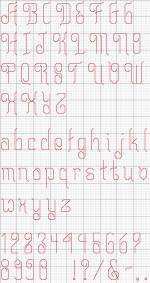 "Holiday"
Click here to enlarge
Click here or on the picture above for "Holiday," a printable PDF pattern. A new window or tab will open so you can continue here.

In the design 'Holiday Alphabet'

"Holiday" Alphabet 24 manages to look festive and remain very readable. It works well for holidays, monograms or any application that requires a "simply elegant" look.
When stitched on 14-count fabric using DMC floss, use 1 strand for backstitches.
Description:
Line letters, standard/straight
Characters Included:
Upper Case Letters
Lower Case Letters
Numbers
Punctuation
Height:
The upper case letters are 12 stitches high, with the tips of some letters extending above and/or below.
The lower case letters without ascenders or descenders (ex: a, c, o) are 7 stitches high
The lower case letters with only ascenders (ex: b, d, h) or only descenders, (ex: g, p, y) are 12 stitches high
The lower case "j", with descender and a dot above, is 15 stitches high
Width:
The upper case letters vary in width. The majority of the lower case letters are 5 to 7 stitches wide.

Stitch complexity
This is an easy to stitch alphabet that uses only backstitches. If this stitch is unfamiliar to you, click on the "Backstitch" button on the left menu, under the "Tutorials'" section.
Floss
Change the floss color to coordinate with your cross stitch project. Use the same number of strands that you are using for the rest of your pattern.

How to fit text into a design
Learn how to select and adapt cross stitch alphabets by clicking on the "Alphabet 123s" button in the left menu, or click here.
Click here for a printable cross stitch pattern for "Holiday".
A new window or tab will open with your chart.
---
Home ›
Free Cross Stitch Charts
› Holiday Alphabet