Make this Ladybugs Cross Stitch!

These ladybugs on the bright yellow sunflower make an irresistible combination. While I originally designed this pattern to be used on a cross stitch baby quilt or baby afghan, it is one of those images that can be appreciated by children and adults alike.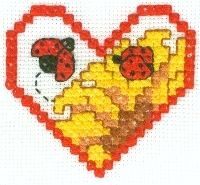 Click here for Ladybugs Cross Stitch Pattern
Some Ideas
Using waste canvas, you can cross stitch this heart onto baby's clothes, then embroider the individual ladybugs on each point of your collar.
Cross stitch washcloths and hand towels with "Ladybug" and "Inchworm." They will remind your toddler to wash and dry hands her hands, leaving the "bugs" behind.

Stitch complexity of Ladybugs cross stitch

Stitch Count: 21 high x 23 wide

Fabric and finished design sizes

9 Evenweave/Aida 2 1/2"h x 2 3/8"w (also for 18ct over 2 threads)
11 Evenweave/Aida 2 1/8"h x 1 7/8"w
14 Evenweave/Aida 1 5/8"h x 1 1/2"w
18 Evenweave/Aida (over 2 threads) 2 1/2"h x 2 3/8"w

Consult our handy stitch count table to do the calculations for other fabric and design sizes.

Click here for a printable Lady Bugs cross stitch chart with instructions, stitch count and floss numbers. A new window will open so you can continue browsing here.
You can print all three pages of the file or just the pages you wish.
---
Home ›
Cross Stitch Animals
› Ladybugs