Desert Rose Cross Stitch Printable Pattern

Few things rival the simple beauty of the rose. Celebrated equally for its appearance, fragrance and toughness, it combines thorn, leaf and flower with singular ease. Honored in poem and song, the rose stands out among flowers.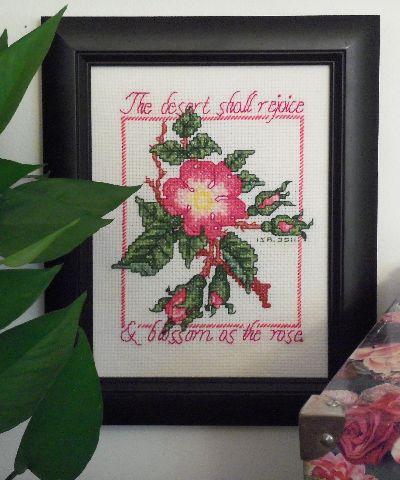 Click here for "Desert Rose" Cross Stitch Pattern
Ask people from around the world to name one flower, and the name you'll hear most repeated will be "rose."
"That which we call a rose, by any other name will smell as sweet." Shakespeare knew his flowers. Whether wild or cultivated, its beauty is legendary. The ancient Greeks and Romans used it as a symbol for the goddess of love. The red rose became a symbol of the blood of Christian martyrs.
Its association with romance lives almost universally in the West, and it frequently serves as the subject for still life art. In "Desert Rose," it appears both robust and protected, able to thrive in the harshest places. Love does that.

Stitch details for rose cross stitch

Stitch Count: 75 high x 59 wide

Fabric and finished design sizes:

9 ct. Aida 8 3/8" high x 6 1/2" wide (also for 18ct over 2 threads)
11 ct. Aida 6 7/8" high x 5 3/8" wide
14 ct. Aida 5 3/8" high x 4 1/4" wide
18 Evenweave/Aida (over 2 threads) 4 1/8" high x 3 1/4" wide

For other Fabric and Finished Design Sizes, let our handy stitch count table do the calculations for you.
Click here for a printable desert rose cross stitch chart with instructions, stitch count and floss numbers. A new window will open so you can continue browsing here.
You can print all three pages of the file or just the pages you wish.
---
Home ›
Free Cross Stitch Charts
› Desert Rose
Home › Christian Cross Stitch
› Desert Rose