Free Sailboat Cross Stitch
Printable Pattern

This bright boat with it's fuchsia and white checkered sail--you can almost feel it rocking gently on the ocean as the sun sets. Embroider it on a bookmark to keep your place in the storybooks you read to baby at bedtime.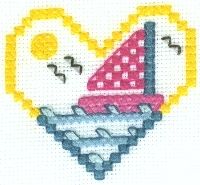 Click here for Sailboat Cross Stitch Pattern
While this cross stitch sailboat pattern was originally created as another block or square for a baby afghan or baby quilt, it doesn't have to stay in the nursery.
Embroider it for your office mouse pad or mug as a reminder that there are better places to be than at work when the sun goes down.
Or, cross stitch a set of coasters, changing only the color of the sailboat on each.
You can embroider them on 3" bands and add them to the curtains.

Stitch complexity for sailboat cross stitch

Stitch Count: 21 high x 23 wide

Fabric and finished design sizes
9 Evenweave/Aida 2 1/2"h x 2 3/8"w (also for 18ct over 2 threads)
11 Evenweave/Aida 2 1/8"h x 1 7/8"w
14 Evenweave/Aida 1 5/8"h x 1 1/2"w
18 Evenweave/Aida (over 2 threads) 2 1/2"h x 2 3/8"w

For other sizes, let our handy stitch count table do the calculations for you.

Click here for a printable Sailboat chart with instructions, stitch count and floss numbers. A new window will open so you can continue browsing here.
You can print all three pages of the file or just the pages you wish.
---
Home ›
Baby Cross Stitch Patterns
› Sailboat