How to Make a Straight Stitch

Never was a stitch more perfectly named. The Straight Stitch goes from point A to point B in a straight line as indicated on your pattern.
To make one, simply bring the needle up from the back of the fabric to the front where your line begins. Push the needle through to the back at the point shown. Done!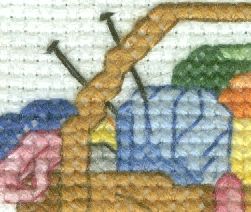 Straight stitches make these knitting needles look . . . straight!
They can be used to cover design lines. They can go any length, in any direction. Grouped closely, they become the Satin Stitch, popular in many standard embroidery designs. Crafted in a circle, they become a variety of Eyelet Stitch.
It may or may not start and end in the holes (or in between threads) of your Aida cloth. Don't carry the floss too far on the back of the cloth. If the individual stitches are not close together, it is better to bury the thread and start anew at the next location.
Instructions show it the way it is most often used in cross stitch designs.

How to straight stitch

| | |
| --- | --- |
| | |
| 1. Insert the needle from the back to the front of the fabric at the beginning of the line. | 2. Insert the needle from the front to the back of the fabric at the end of the line. |
| | |
| Could it be any easier?! | |
Here are some examples of uses for this simple stitch.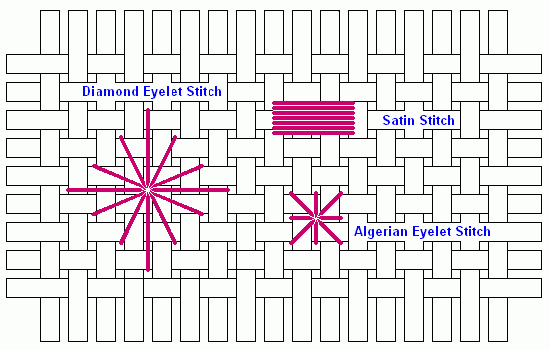 If you have a comment or question about this lesson, or if you would like to suggest a new one, please go to our Contact Us page. (We promise not to use your email address for any other purpose.)
---
Home ›
How to Cross Stitch
› Straight Stitch