Free Christmas
Cross Stitch Alphabet 08
"Candy Cane"


The Christmas Cross Stitch Alphabet is one of those designs that can stand alone.
It would make a great holiday greeting card, tree ornament, bookmark or whatever you can imagine.
Consider surrounding the text with a candy cane border.
You could also combine it with an appropriately whimsical Christmas-themed design.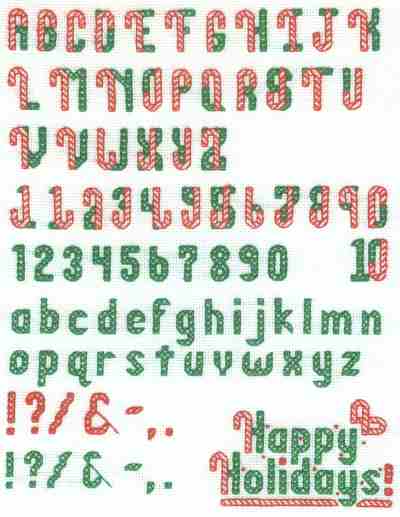 Click here for Christmas Candy Cane Alphabet

In the Christmas cross stitch alphabet design

This design is stitched on 18-count Aida over two threads. I used DMC floss.
For the upper case letters, numbers (those with candy canes) and punctuation (those stitched in red):
2 strands for cross stitches and partial stitches
2 strands for backstitches
For the lower case letters, numbers and punctuation (those in green without candy canes):
2 strands for cross stitches and partial stitches
1 strand for backstitches
1 strand, wrapped once, for the French Knot detail on or around the lower case letters (optional)
The letters backstitched with 2 strands have a fuller, more rounded shape. If you prefer the appearance of the lower case letters backstitched with a single thread, do the same for the upper case letters. The reverse is true for the lower case letters; backstitching with 2 strands fills in the letters more.
You can also eliminate the backstitches on the green altogether, leaving them to look like the needles on a Christmas tree.
Description:
Block letters, standard/straight
Characters Included:
Upper Case Letters
Lower Case Letters
Numbers
Punctuation
Height:
The upper case letters are 7 stitches high.
The lower case letters without ascenders or descenders (ex: a, c, o) are 4 stitches high.
The lower case letters with only ascenders (ex: b, d, h) or only descenders (ex: g, p, y) are 6 stitches high.
Width:
These letters have varying widths. The upper case letters range from 3 to 6 stitches wide. Most lower case letters are 3 stitches wide, but they range from 1 (i, l) to 5 (w).

Stitch Complexity

Learn any unfamiliar stitches by clicking on the above links or on the "How To..." button on the left menu of the Better Cross Stitch Patterns Home page. Check out my French Knot video for an easy way to make this sometimes difficult knot.

How to Fit Text into a Design

To resemble Christmas tree bulbs, use a variety of brightly colored floss for the French knots; increase the number of strands and the number of times you wrap the floss to make these "bulbs" larger.
Candy canes come in all colors now. Consider using only the upper case letters for your text, but change the candy cane floss for each letter.
Or stitch the same card for everyone on your list (this will go guickly), but vary the candy cane and border colors.
For more help on selecting and adapting cross stitch alphabets, click on the "Alphabet 123s" button on the left menu of the Home page, or click here to learn how to select and adapt cross stitch alphabets.
Click here for a printable cross stitch pattern for this Christmas Cross Stitch alphabet pattern.
A new window will open so you can keep your place here.
I hope you have as much fun stitching this Christmas Cross Stitch Alphabet as I did! If you have a question or comment, please go to our Contact Us page. (We will never use your email address for any other purpose.)
---
Home ›
Cross Stitch Alphabets
› Christmas Alphabet