Cross Stitch Dolphins Chart

These cross stitch dolphins have to go wherever baths are taken--from the shallow table top bath on your newborn's changing table, to the kitchen sink (!) and finally in the bathtub itself. Add some other water-loving pals and you have a variety of charts to cross stitch for use in a wide range of bathroom accessories.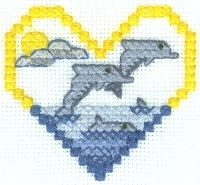 Click here for Cross Stitch Dolphins Chart
Clear acrylic items that accommodate cross stitch include
dispensers with a pump top for liquid soap, lotions, shampoos and bath wash
toothbrush caddies and
useful holders for cotton swabs and other necessities.
This pattern was originally designed and used as another block or square for a baby afghan or baby quilt. But all animal lovers, young and old, can show their love by displaying this heart on clothing.
Be sure to check out these other cross stitch critters to swim with the Dolphins: "Whale," "Octopus," "Turtle," and "Sailboat."

Stitch details for dolphins chart

Complexity
One floss "color" is created by blending two (the chart instructions will guide you).
Stitch Count: 21 high x 23 wide

Fabric and Finished Design Sizes
9 Evenweave/Aida 2 1/2"h x 2 3/8"w (also for 18ct over 2 threads)
11 Evenweave/Aida 2 1/8"h x 1 7/8"w
14 Evenweave/Aida 1 5/8"h x 1 1/2"w
18 Evenweave/Aida (over 2 threads) 2 1/2"h x 2 3/8"w

For other Fabric and Finished Design Sizes, see our handy stitch count table.

Click here to get the free Dolphin Chart with instructions, stitch count and floss numbers. A new window will open so you can continue browsing here.
You can print all three pages of the file or just the pages you wish.
---
Home ›
Free Cross Stitch Charts
› "Dolphins"
Home › Baby Cross Stitch Animals
› "Dolphins"