How to Choose
an Embroidery Hoop

or whether to use one at all

These are the ins and outs of embroidery hoops.
Click here to share YOUR experience using hoops!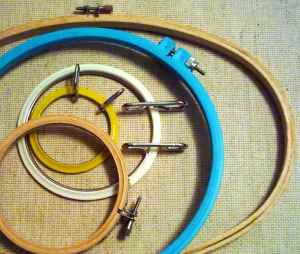 Types of Hoops

Purpose of an embroidery hoop

A hoop keeps fabric taut as you cross stitch. Hoops and Scroll frames each have their fans.


Characteristics: what they're made of

constructed of two rings, one fitting snugly inside the other
has tightening mechanism, like a built-in spring or hand-tightened screw
can be round or oval
made of wood, metal or plastic
sizes start at 3" in diameter
are hand held or can be attached to floor stands, table stands, lap stands, fanny stands and clamp stands

Advantages
keeps fabric taut as you embroider
some stitchers feel it helps maintain consistent stitch tension and appearance
smaller and more portable than frames
when attached to a stand, it leaves both hands free, allowing those who use the stab method to keep one hand above and the other hand below the fabric while stitching
a single hoop is more flexible than a single frame; while a frame must hold the entire project, a hoop can be moved from place to place on it

Things to consider
can leave rings where the fabric is stretched and held by the hoop (see Recommendations)
floss can get caught on the screw mechanism; look for hoops that cover this hardware
must be cleaned frequently to prevent soiling fabric
metal hoops can rust
using the sewing method is easier without the hoop
unless attached to a stand, one hand must hold the hoop, so it can slow you down if you use the stab method
those with a stand are less portable
hoop can damage existing stitches; make sure you can easily slip the outer hoop over the fabric covering the inner hoop, then tighten (don't force hoop over stitches)

So how much do they cost?

Plastic hand-held hoops range from 3" to 9" for under $5. Larger sizes are a bit more.

Those that attach to, or are part of, a stand cost considerably more.
The following on Amazon give an idea of the types and prices available.


How to decide

If you are new to cross stitching, select two small trial projects. Stitch one with and one without a hoop.

Start with the inexpensive, plastic, hand-held type to determine whether you like working with one before investing in the more expensive varieties.

If you have already been stitching with a hoop, try working without one. You may find that you like using a hoop on some projects and not on others.

If you decide to work with a hoop, consider how important portability is before investing in a stand.

Discourage stretch marks in your fabric by removing your project from the hoop whenever you're not stitching.
Consider whether you want to try out scroll frames as well. As with hoops, frames also have their enthusiastic fans. As with any other tool, if using an embroidery hoop improves your stitching and makes the process more enjoyable, by all means, work toward finding just the right style for your needs.
Have an Opinion about
Embroidery Hoops?
It's hard to think about the history of cross stitch without picturing fabric in an embroidery hoop. They've been around for who-knows-how-long. And though we have other methods of holding fabric while we work, some stitchers wouldn't think of picking up a needle without reaching for a hoop.

Which describes you? Have you abandoned your hoop for a scroll or Q-Snap frame? Or have you tried them and gone back to your trusty embroidery hoop? Perhaps you've abandoned all for the "hands on" approach?

What Others Have to Say About Hoops
Click on the links below to see what other people think of using hoops. They were all written by visitors to this page. Do they agree with you?

Hoops are okay

I've tried them all . I prefer spring hoops but if my hands are weak I have a difficult time squeezing it. The tension is great if you like taut. I NEVER …
Why a hoop????

I have never used a hoop and have been cross-stitching for 15 years - only because I didn't think it appropriate. Suddenly I came across this article and …
Hoop Heaven!! Not rated yet
I love my hoop. It makes my stitching MUCH more portable. I use smaller sized hoops and work on small sections at a time. I can easily throw my work in …
---
Home ›
Counted Cross Stitch Supplies
› Embroidery Hoop