Cross Stitch Alphabet 31
"Freedom" Alphabet

Freedom Alphabet 31, designed for our Freedom Bookmark cross stitch pattern, shows strength and pride. Any design that requires a feeling of solidity can benefit from this alphabet.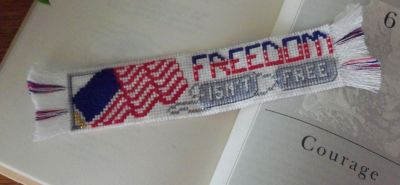 Click here for Cross Stitch Freedom Alphabet 31 for a printable PDF pattern.  A new window or tab will open so you can continue here.
These flag-waving, red, white and blue letters are perfectly styled for your most patriotic "Support our Troops" design.
Click here or on the picture above for an enlarged view.

Stitch details for "Freedom Alphabet"

This pattern is stitched on 14-count Aida using DMC floss.
2 strands for cross stitches
1 strand for backstitches
Description:

Block letters, standard/straight

Characters Included:
Upper Case Letters 
Two Number Sets - one is quite square and angular, while the other is graphically more traditional
Height:
The main body of the upper case letters, numbers and punctuation is 9 stitches high.
Width:
The main body of most of the letters and numbers are 5 or 6 stitches wide. If space is at a premium, many of the letters can be made narrower by simply removing just a single inside stitch.

Stitch Complexity

The Freedom alphabet is created with full cross stitches and backstitches. Although you'll use three colors, they are predictable and the angular letters are easy to stitch..
If you are unfamiliar with any of the stitches, follow the instructions and diagrams by clicking on the links above.
Floss:
If you like the style of this alphabet, but aren't stitching a patriotic pattern, just change the floss colors to reflect your tastes and to coordinate with the rest of your project. Use the same number of strands that you are using throughout the rest of your cross stitch pattern.
How to fit Text Into a Design:

Learn how to select and adapt cross stitch alphabets by clicking on the "Alphabet 123s" button in the left menu, or click here.
Click here for this printable cross stitch pattern.   A new window or tab will open with your chart.
---
Home ›
Cross Stitch Alphabet Patterns
› Freedom Alphabet