Stitch this Beautiful
Hark Christmas Ornament
Cross Stitch

We don't often hear the word, "Hark" anymore. Yet, when we do, we know exactly what it means. In fact, the word brings to mind an entire story, the birth of a baby who would change our lives in so many ways.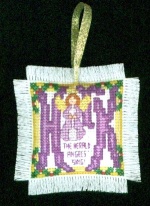 Click here for a free printable "Hark!" Christmas Ornament pattern
We think of angels and bright stars and visitor from afar, of simple shepherds and the promise of Heaven on earth.
From all of us to all of you, Merry Christmas!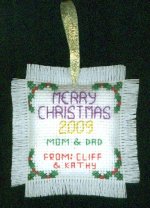 Hark! Ornament Reverse
Put your own message on the reverse. See our Alphabet 123's page for a detailed tutorial on how to plan and lay out your own letters. Personalize as much or as little as you like!


How to use it
The Hark ornament provides a beautiful design that is also quickly and easily completed.
Beginners and youth alike will enjoy this project, while experienced stitchers will appreciate how many they can complete during the busy Christmas season. These are wonderful gifts for...
coworkers
teachers
friends
family
--either singly or as a set. Complete several of this design to place around the tree, or make other ornaments in this design series.


Stitch details for Hark Christmas ornament

Stitch Count: 64 high x 64 wide

Fabric and Approximate Finished Design Sizes:
9 ct. Aida 7 1/8" high x 7 1/8" wide
11 ct. Aida 5 7/8" high x 5 7/8" wide
14 ct. Aida 4 5/8" high x 4 5/8" wide

I embroidered the "Hark Christmas Ornament" on 14-count Aida with DMC 6-strand cotton floss, accented it with gold Kreinik Metallic floss. The front and back are stitched on two separate squares, then connected with half stitches. The ornament is padded, then finished off with a gold ribbon hanger and surrounding fringe.
To calculate other fabric and finished design sizes, use our handy stitch count table.

Stitch complexity
If your need to brush up on any of the above stitches, see the Tutorial section of the menu on the left side of this page.
Click here for your free printable Hark Christmas Ornament with instructions, stitch count and floss numbers. A new window will open so you can continue browsing here.
---
Home ›
Free Cross Stitch Charts
› Hark!
Home › Christmas Cross Stitch Patterns
› Hark!