Iris Bookmark Pattern

"Bloom where you're planted"

The Iris Bookmark pattern celebrates one of the longest blooming and easiest flowers to grow. Plant irises, and they come up year after year, early in the season, ready to display their exquisite beauty.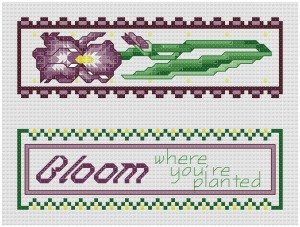 Garden Treasures - Iris
Click here for a printable PDF pattern for the Garden Treasures Iris Bookmark Pattern. A new window (or tab) will open so you can keep your place here.
Design details of iris bookmark

Stitch Count: 47 high x 103 width including enough for fringe on each end and sides.
Fabric and Approximate Finished Design Sizes:
9 ct. Aida 11 1/2" high x 5 1/2" wide
11 ct. Aida 10 1/4" high x 3 1/2" wide
14 ct. Aida 7 3/8" high x 3 3/8" wide
18 ct. Aida 5 3/4" high x 2 5/8" wide

For other Fabric and Finished Design Sizes, let our handy stitch count table do the calculations for you.
"Garden Treasures Bookmark - Iris" was stitched on 14-count Aida using DMC 6-strand cotton floss. Kreinik Metallics Blending Filament highlights selected stitches.
The front and back design were stitched on two separate pieces of fabric, then combined by sewing them together. The front features an iris in full bloom, and the back features the popular sentiment, "Bloom where you're planted" using our Outline alphabet (Alphabet 11, filled in) and a smaller version of our "It's a Fine Line" alphabet (Alphabet 06).
Border stitches create a false lace pattern, and metallic stitches add bright sparkle to the border stitching.
Precut bookmarks can also be adapted to stitch the Iris bookmark pattern.
What you will need

Fabric
DMC (or other 6-strand cotton) floss
Kreinik Metallics floss
Stitch complexity
full cross stitches
half stitches (to sew the front and back together)
Click here for a printable pattern with instructions, stitch count and floss numbers. A new window will open so you can continue browsing here.
You can print all 3 pages of the file or just the pages you wish.
---
Home ›
Free Cross Stitch Charts
› Iris Bookmark
Home › Cross Stitch Bookmarks
› Iris Bookmark