Candy Cane Cross Stitch Christmas Ornament

This candy cane cross stitch honors a staple of Christmas decorations. For many, a tree just would not look right without candy canes sprinkled among its branches.

Growing up, we always had candy canes, tinsel, garland, lights and a great variety of ornaments. We carry this tradition though to the next generation today, adding things here and there each Christmas.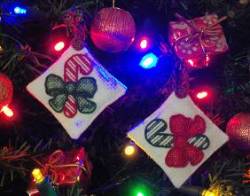 Click here for the printable pattern

How to Use It
This pair of cross stitch Christmas ornaments features a red and a green candy cane tied with ribbons. They're "Ornament Minis." "Done-in-a-day cross stitch." "Weekend Wonders." No matter what they're called, these miniature decorations are big on impact.

These Christmas Candy Canes boast features new to our existing ornament collection.

Size
They are petite - 2 inches by 2 inches square. Our Santa Ornament (plus our other fringed pieces) are about 3 and a half inches square. This makes them quite versatile. Besides the Christmas tree, they can fit easily on wreaths, garland, and even used as tags on Christmas gifts.

Edging
These ornaments are completed with straight, clean edges. Our Join Sides page is now augmented with detailed instructions about how to achieve this look. You can then apply the same technique to other ornaments, bookmarks, or any two-sided projects.

Memory Thread
DMC's Color Infusions Memory Thread is applied to the completed cross stitch, resulting in a 3-D effect. You can learn how to add Memory Thread to these, and to other projects, by following our easy, step-by-step instructions. Then learn how to make colorful, stylish ornament hangers.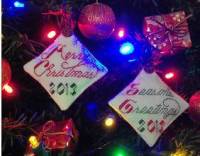 Candy Cane Ornaments Reverse Side


Design details for candy cane cross stitch

Stitch Count: each ornament is 28 high by 28 wide

Fabric and Approximate Finished Design Sizes:

9 ct. Aida  3 1/8" high x 3 1/8" wide
11 ct. Aida 2 1/2" high x 2 1/2" wide
14 ct. Aida 2" high x 2" wide

To calculate other fabric and finished design sizes, use our handy Stitch Counts table.

I embroidered the "Cross Stitch Christmas Ornament Minis --
Candy Canes" on 14-count Aida with DMC 6-strand cotton floss, accented it with DMC Memory Thread.
The front and back are stitched on separate squares and joined with whip stitches. To finish it off, we pad the ornament and add Memory Thread hanger.


Stitch complexity

If you need to brush up on any of the above stitches, see the Tutorial section of the menu on the left side of this page.

Click here for a printable chart of Candy Cane Cross Stitch Christmas Ornament Minis complete with instructions, stitch count and floss numbers. A new window will open so you can continue browsing here.


---
Home ›
Cross Stitch Alphabet Patterns
› Candy Cane Cross Stitch