Circus Seal Chart Cross Stitch

I originally designed "Circus Seal" as another block or or square for a baby blanket. I liked it so much that when it came to adding a cross stitch dog (what baby quilt worth it's salt doesn't have a puppy or kitten on it?), I knew just how to do it. Now they are the perfect pair.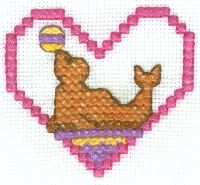 Click here for Circus Seal Chart
Cross stitch these two opposite of one another with a space in between. Join them by a small heart border at the top and at the bottom. Cross stitch letters in the middle for baby's name. Or, embroider some sentiment, such as "Baby Sleeping."
Would you believe that they now have cross stitch baby booties! They can be stitched on both the top and the bottom. Facing each other, embroider "Circus Seal" on one and "Circus Dog" on the other. They will captivate baby and bring a smile to Mom and Dad.

Stitch complexity for circus seal chart

On bibs, consider centering this heart, then cross stitch smaller hearts extending to the left and right. Or, stitch this design to the left or right edge, and add the child's name. Flip the design and cross stitch two facing one another, with little hearts or the name across the middle.
Stitch Count: 21 high x 23 wide

Fabric and finished design sizes
9 Evenweave/Aida 2 1/2"h x 2 3/8"w (also for 18ct over 2 threads)
11 Evenweave/Aida 2 1/8"h x 1 7/8"w
14 Evenweave/Aida 1 5/8"h x 1 1/2"w
18 Evenweave/Aida (over 2 threads) 2 1/2"h x 2 3/8"w

For other Fabric and Finished Design Sizes, let our handy stitch count table do the calculations for you. Click here for a printable chart with instructions, stitch count and floss numbers. A new window will open so you can continue browsing here.
You can print all three pages of the file or just the pages you wish.
---
Home ›
Free Cross Stitch Charts
› Circus Seal
Home › Baby Cross Stitch Animals
› Circus Seal