Cross Stitch Alphabet 30
"Dog Tags" Alphabet

I designed the Dog Tags Alphabet to use with my Freedom Is Not Free bookmark and it is a good fit in any military design, whether in a sentiment or simply to honor the name of someone who has served.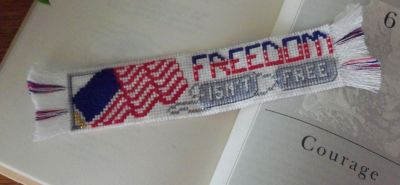 Each letter is outlined with two different shades of floss to create a shadow effect. To complete the look of metal, silver blending filament is half-stitched over the cross stitches.
The front of this bookmark shows the letters stitched in the dog tags, while the back demonstrates how the letters would appear without the surrounding "metal".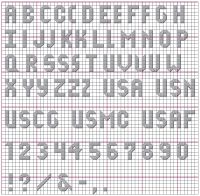 Click here or on the picture above for a larger version of Alphabet 30
Click here for a printable PDF pattern of the Alphabet 30. Another page will open so you can keep your place here.

In the design example and bookmark photograph of the Dog Tags alphabet

To stitch stand-alone letters (like the back of the bookmark), on 14-count fabric using DMC floss:
use 2 strands for cross stitches
use 1 strand for backstitches
Stitching these letters with the surrounding dog tags requires different instructions. Click on the bookmark and follow the directions in the pattern PDF.

Description:

Block letters, standard/straight

Characters Included:

Upper Case Letters with additional style variations
Numbers

Punctuation

Abbreviations for the most common branches of the military
Height:

The letters, numbers and punctuation are 5 stitches high.

Width:
The majority of the upper case letters are 3 stitches wide. If space is at a premium, there are narrower versions of several letters.

Stitch Complexity:
You will be using two different colors to outline these letters. Just think of the shadow as being cast down and to the right of each letter and you will catch on to the outlining pattern quickly.
Use half stitches with silver blending filament over the top of the cross stitches to simulate metal.

If you are unfamiliar with any of the stitches, follow the instructions and diagrams by clicking on the "Cross Stitch", "Three Quarter Stitch", "Half Stitch" and "Backstitch" buttons on the left menu, under the "Tutorials'" section.

Floss:

If you are combining these letters with another project, use complimentary colors in the same number of strands that you are using throughout the rest of your project.

If you want the letters to simulate metal, follow the instructions with the pattern. You will use 6-strand cotton floss overstitched with Silver Metallic filament.


How to fit text into a design

Learn how to select and adapt cross stitch alphabets by clicking on the "Alphabet 123s" button in the left menu, or click here.

Click here for a printable PDF pattern for Dog Tags Alphabet
. It will open in another window so you will not lose your place here.
---
Home ›
Cross Stitch Alphabet Patterns
› Dog Tags Alphabet