Freedom Cross Stitch Bookmark
The Freedom cross stitch bookmark reminds us of the price we pay for this dearest of all rights. Many have served and many have given their lives to secure the freedom we enjoy.
It is a measure of how well they have done their job that we go through our days without considering how free we are compared with others. Unless we have lived, or at least spent some time in, lands where we were not allowed to live as we please, the very word "freedom" may not often cross our minds.
We hear the word repeated most often at election time, as an affirmation or a warning.
Not Just for Election Years

Veteran's Day, Memorial Day and Independence Day see the nation celebrating the contributions of our men and women in uniform. But, in the words of Ronald Reagan, "Freedom is not something to be secured in any one moment of time. We must struggle to preserve it every day. And freedom is never more than one generation away from extinction.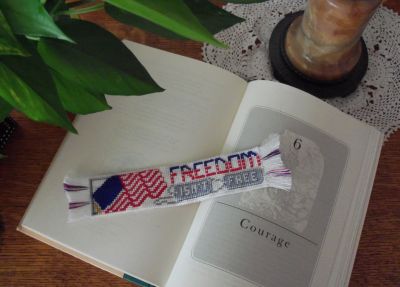 Click here for a printable Freedom Cross Stitch Bookmark pattern.
Still, it is good that we remind ourselves why we send young men and women to fight for us. Whether the cause is always just is for history to decide. For the men and women who serve the reason is always the same. Freedom.
The Freedom Is Not Free bookmark celebrates the freedoms we have and makes us remember that this rarest of rights does not come without great sacrifice. We honor their service. We honor their lives.
Make it Personal

Do you have a friend or family member that is currently serving or has served in our military? Personalize the reverse side of this bookmark with their name and branch of service.
Then proudly display it so others will be reminded of their sacrifice.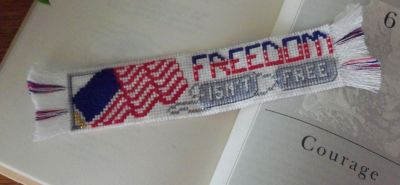 Freedom cross stitch bookmark design details
Stitch Count: 22 wide x 122 (94 long design plus 1-inch fringe added to each end)
Fabric and Approximate Finished Design Sizes, including fringe:
9 ct. Aida 2 1/2" x 12 1/2"
11 ct. Aida 2 x 10 1/2+"
14 ct. Aida 1 1/2+" x 8 1/2+"
18 ct. Aida 1 1/4" x 7 1/4"
For other Fabric and Finished Design sizes, let our handy stitch count table do the calculations for you.
Freedom Is Not Free was stitched on 14-count Aida using DMC 6-strand cotton floss. Kreinik Metallics Blending Filament highlights selected stitches.
The front and back design were stitched on two separate pieces of fabric, then combined by sewing them together. The front features an American flag and Dog Tags with "Freedom Isn't Free" and the back is personalized with a soldiers name, military brance, and status
Two new alphabets were designed specifically for use on this bookmark: Freedom (Alphabet 31) and Dog Tags (Alphabet 30).
Red and blue floss accents are added to the ends and the fringe is stylized with a curved cut.
The Freedom Is Not Free bookmark pattern can be adapted to use with pre-cut bookmarks.

---
Home ›
Cross Stitch Alphabets
› Freedom Bookmark