Peace Christmas Ornament
Cross Stitch Pattern

Of all the words spoken at Christmas time, Peace defies a simple definition. Without freedom, there is no peace. Yet wars have often been fought for freedom.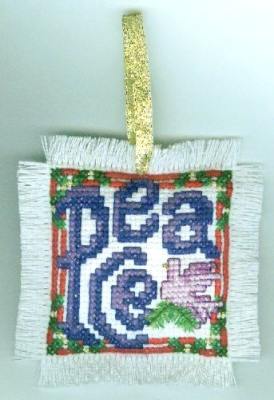 Click here for a free printable "Peace" Christmas Ornament pattern.
So peace is not just "the absence of war." It's much more than that. Only when heaven reigns on earth will we know true peace.
Christmas brings us the promise that we will.

How to use it

As with all designs in this set, you get the best of both worlds with the peace Christmas ornament--beautiful design that is quick and easy to complete.
This is a great project for beginners or youth, while experienced stitchers will be thrilled with how many they can complete in a short amount of time. These are perfect gifts for...
coworkers
teachers
friends
family
--either singly or as a set.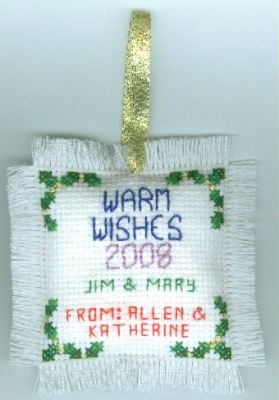 Reverse Side

Design details for Peace Christmas ornament

Stitch Count: 34 high x 34 wide

Fabric and Approximate Finished Design Sizes:
9 ct. Aida 3 3/4" high x 3 3/4" wide
11 ct. Aida 3 1/8" high x 3 1/8" wide
14 ct. Aida 2 3/8" high x 2 3/8" wide

I embroidered "Peace" on 14-count Aida with DMC 6-strand cotton floss, accented it with gold Kreinik Metallic floss. The front and back are stitched on two separate squares, then connected with half stitches. The ornament is padded, then finished off with a gold ribbon hanger and surrounding fringe.

Stitch complexity

Sparkle is added to the dove with metallic half stitches on top of the cross stitches. For detailed stitch diagrams, follow the above links or click on the "How to..." button on the left menu.
To calculate other fabric and finished design sizes, use our handy stitch count table.
Click here for your free printable Christmas Ornament with instructions, stitch count and floss numbers. A new window will open so you can continue browsing here.
You can print all 10 pages of the file or just the pages you wish. You can also save the file to your hard drive for later printing.
---
Home ›
Free Cross Stitch Charts
› Peace Ornament
Home › Christmas Cross Stitch Patterns
› Peace Ornament