About Us

My name is Katherine Ann Martin Tripp. My husband (who answers to Grandpa these days) is partially responsible, at least, for making my already long name even longer (it never did completely fit in those little boxes at school!). 
I decided to keep my maiden name as a way to honor my parents, for so much of what you see on this site had their roots in my upbringing. Like them, I was outgoing, determined, but with a sometimes loud and in-your-face attitude.
Then my husband came along. Quiet, loving, and the least selfish person I have ever known.
With a light and loving touch, his mere presence sanded the rough edges (excuse me as I wax poetic), polished, and added exactly the right amount of support.
I would be a very different person without him. I'm absolutely certain I wouldn't be talking to you now. So I'm very proud to be Katherine Ann Martin Tripp.
We've lived a very interesting life--as conventional as both working the corporate grind with lots of perks, and as unconventional as selling all our belongings and taking to the road in a 23ft motor home.
It hasn't always been easy, but it has never been dull. And throughout it all, you could always find us working together on the venture part of our adventure.
Then, in 2008, we started on the GRANDest of adventures--raising two of our grandchildren. And in that same year, we started this website.
The site began with a few heart patterns I created for my own baby afghan--basic, bright, cute.  I couldn't wait to get up in the morning to finish stitching the current heart and begin designing a new one.
Thanks to the internet, I could now share counted cross stitch with more people than I could ever hope to meet in person. Yet it occurred to me that not everyone grows up in a crafting family. I spent countless hours creating diagrams and instructions and how-to videos.

Meanwhile, G-pa found SBI. We loved the philosophy. Publish good content--and lots of it. Be fair and honest. Find your audience and give them more than they asked for. Under promise and over deliver. We liked that.

Such was the birth of better-cross-stitch-patterns.com.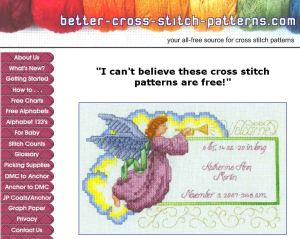 Sometimes the laundry or homework or supper or the latest science project keeps me from adding new patterns or how-tos as quickly as I'd like. I know it's the same balancing act for you, too, so I'm ever grateful for your patience.

Crafters are friendly, helpful, sharing--and now just a click away.Tell us what we can do to improve your visit to our site. Email us--we depend on you!

And, as always. . .

Keep on Stitching,


P.S. Want to know the secret of building a website? Click here to see how we built this one.

---
Home
› About Us