These easy instructions show how to make fringe for cross stitch designs for pillows, bookmarks, ornaments and many other projects. Done in moderation and with an exacting hand, fringe can provide that "something extra" needed to finish off a special gift or keepsake.
You may also want to add floss accents to your fringe. If you decide to add floss accents, proceed in this order:
Complete the stitching for both sides.
Complete the steps for adding accents using the link immediately above (It may seem like a big task, but if you just take it step by step, it's easy!)
Skip down to Now for the Fringe below to finish it
If you will not be adding floss accents, continue here:
Before you can make fringe, you must have a "finished" edge to work with. Otherwise, the fringe can just "keep going" right through the cross stitch itself. To learn more about how to finish off the edges, see How to Join Sides.
The instructions on that page can be used to finish edges for a single cross stitch or for one with two sides that must be joined.
Finishing Edges: the Short Course
I prefer to secure the edges of a cross stitch using floss rather than thread and sewing machine.
Start by bringing your needle up through the fabric at one of the corners of the cross stitch, marked here with a 1.
Push the needle down through the hole at 2, completing a half stitch.
Bring the needle up again at 3 to begin another half stitch.

Note that red lines indicate the way stitches would appear on the front, or "right" side of the fabric. Blue lines show where the stitches would appear if you could see through the fabric, x-ray vision at it's finest!

From there, use half stitches to finish off the entire outside of the project as shown in the detail drawing.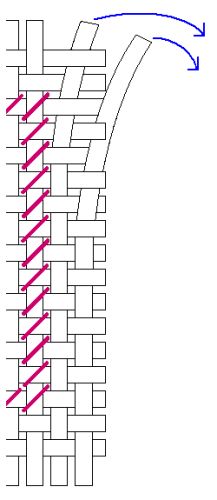 Gently Tease Floss From the Edge
Trim the sides of your fabric to the desired fringe length. It is easier to accurately cut straight before beginning, but if you are uncertain, leave the trimming until later.
Use a needle to tease out the horizontal rows of thread. Start at the corner, working one or more threads loose, and gently pull them away from the side and out altogether.
Sometimes you can easily remove several strands at a time. Other times, you may need to do them one at a time. Work carefully--it would be a shame to damage the project so near the finish.
Continue around the edges until all sides are fringed.
Run a line of Fray Block at the base of the fringe to prevent further raveling.
See How to Join Sides for more detail on how to finish off edges, whether working with one- or two-sided projects.
---
Return from How to Make Fringe for Cross Stitch to How To Cross Stitch
Return from How to Make Fringe for Cross Stitch to Better Cross Stitch Patterns Home Page