Selecting Counted Cross Stitch Supplies

Whenever I think of counted cross stitch supplies, I remember an old saying among carpenters: "Half the job is having the right tools." There are things you just can't do without a router. Whatever that is.
What's the point? Just this. It's far easier to do the best job with the proper tools. And that goes for counted cross stitch as much as it does for carpentry.
For example, you might be tempted to use the same needles that you use for sewing on a button, or skip using a needle threader altogether.
Tempted is one thing. Doing is another. And doing cross stitch includes a whole host of additional challenges that you might not consider.
Let's take needles, for example. You use needles, right? So why can't you just pull out the first available needle and start cross stitching?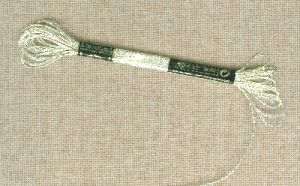 Floss, that's why. Floss isn't just any ordinary thread. Besides the obvious differences in color, it differs from thread in other important ways. You work with two or more strands most of the time. You have to handle it differently, prepare it differently.
Try threading a standard sewing needle with three strands of floss and you might get it done. Then repeat that process every time you change colors.
Yikes! You might be able to get it done the first time despite the extra thickness, but every time? If it doesn't send you howling into the night, you're a better person than I am, Gunga Din!
And if you don't use a needle threader, it will start looking like a very necessary addition to your counted cross stitch supplies about then.
No, cross stitch is definitely not sewing on a button. So why use the wrong tools for the job when the right ones will be so much easier on you?
And they don't cost nearly as much as a router.

Can I afford to cross stitch?

It won't take long to find out. In fact, you can get started for under $10 in counted cross stitch supplies, along with free patterns and some things you have around the house.
Jump in and make a shopping list while you're at it. Check out our convenient counted cross stitch shopping list for an easy way to keep track of your supply needs.
Don't forget to see our how-to page entitled "Preparing Fabric for Cross Stitch Saves Time and Aggravation." Though designed to help you avoid some of the common pitfalls of cross stitch, it also advises you concerning a "must-have" item for your cross stitch supplies.
Having the right counted cross stitch supplies on hand will help make counted cross stitch the rewarding craft for you that it is for so many others.
---
Home
› Cross Stitch Supplies