"I can't believe these cross stitch patterns are free!"

Original cross stitch designs by Katherine Martin Tripp
Looking for truly FREE cross stitch patterns?

Need a resource for cross stitch patterns? Then look no further. Beginner or accomplished, you'll discover
free charts

tutorials
easy-to-follow, detailed diagrams,
great how-to tips
Best of all, everything you see is free! No memberships, no donations, no "free with registration." Zero, zip, nada. Just click and get started.
Or, if you're new to needlework, go to my "How to ..." page. There you'll find everything you need to begin your cross stitch adventure. Faster (and less expensively!) than you think!
We stitch every pattern. That's your guarantee that you can stitch each chart with confidence.

You see, Mom taught me embroidery before I was ten. We started with useful things and applied iron-on transfers. Flowers, animals, butterflies, birds and angels took form. Plain white fabric came alive with color.
Fast forward (more years than I care to mention!). Three dresser scarves embroidered by my Grandmother surfaced. No transfer. They were completed just by counting threads. That's when I learned about counted cross stitch.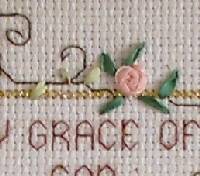 And after my first project, I was hooked. A Birth Record, a Family Tree, a Wedding Record, a baby quilt, Christmas decorations and greeting cards . . .painting with thread.
I don't just like cross stitch. I love it! I spend every otherwise idle moment working, designing or writing about it. I enjoy it most when I'm working on a gift. People appreciate them so much, each one is truly "a gift of time."
Although it seems like I'm always "busy," cross stitching doesn't feel that way. While it is certainly productive, I find the process quietly relaxing and therapeutic. Holding the finished piece in my hands, I think of how generations before me carefully crafted pieces that are in my home today. 
Better-cross-stitch-patterns.com lets me share the rewards of cross stitching with other women (and maybe a few men) all over the globe. It is a gratifying and humbling experience.

Free charts you can trust

I know that it's sometimes hard to trust something that is free. But here, you can. We stitch each one of our cross stitch designs. That is your guarantee that each chart can be stitched as it is presented, without you having to make changes on the fly. (Nobody likes to rip out stitches!)
So dive in now! Use the menu on the left side of every page. No matter what your skill level, you'll find everything you need right here. Great original cross stitch patterns. Detailed lessons, how-to tips, photos, even videos.
Oh, and did I mention? It's free!
Keep on Stitching,