How to Cross Stitch

Are you brand new to the cross stitch craft? Have you been stitching for a while and want another source for patterns, how to cross stitch tips and techniques?
Perhaps you're an advanced stitcher who likes to stay current on the latest and greatest. Whichever you are, you've come to the right place.
How does it differ from needlepoint? In cross stitch you add stitches to fabric. In needlepoint the stitches become the fabric. A comprehensive site for information and instruction in the modern look of this old craft can be found at All About Needlepoint.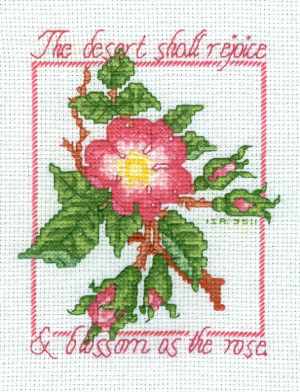 It's no wonder that cross stitch is so popular. Make a simple combination of stitches on a grid pattern, and you quickly transform fabric and thread into pictures, words and symbols. These adorn everything from bookmarks, bread covers and baby quilts to elaborate, framed art.
Not only can you finish projects with a small amount of time (and money!), you can creatively customize one-of-a-kind heirlooms or opt to faithfully reproduce the work of the designer.
In these lessons, you will learn the most basic stitch and move on to master more of those elaborate, decorative and support stitches needed to finish off entire cross stitch projects.
The list of stitches is long, but don't be intimidated. While you'll find each one easy enough by itself, we recognize, too, that you are an individual. Everyone learns best, differently. That's why we present how to cross stitch in carefully worded steps, in clearly-drawn illustrations and in video. You can do all the lessons, back to back, or just learn the basics and return for the rest as you encounter them on a pattern.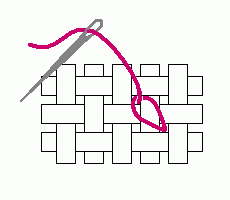 Either way, we want to be your source for cross stitch lessons and free patterns. If you'd like to see additional lessons, or changes made to the existing ones, just let us know by going to our contact page. (We will never use your email address for any other purpose.) We will be adding more how-to tips and videos as we go along.
So, let's get started! Grab a needle, some fabric and some floss. Choose one of the lessons, and when you've mastered it, just come back here for the next one by clicking the "How to ..." button on the left side of any page.
P.S. After making a mistake on a cross stitch project, I just finished a page about what to do next. Do not let a mistake turn into an unfinished project!

Click here to "Finish Every Cross Stitch Project!
---

Our how to cross stitch tutorials

How to Cross Stitch -- The Most Basic Form

Cross Stitch Row Tutorial

Using the "Sewing Method" of Cross Stitch

Instructions for "Burying the Thread"

Preparing Fabric for Stitching

Waste Knots -- The Easy, Disposable Way to Secure Your Thread

Learn to Make a Half Stitch

Quarter Stitch Tutorial

How to Make a Three Quarter Stitch -- Identifying them on a Pattern

Basics of Straight Stitching

Using the Backstitch to Define and Enhance Cross Stitching

Creating a French Knot in Four Easy Steps

Learn to Make a Daisy Stitch

How to Join Sides of a Cross Stitch Project

How to Make Fringe for Cross Stitch

Working "Over Two Threads"

Why You NEED a Needle Threader and How to Use One

How to "Re-thread the Needle" to Prevent Floss from Slipping Out

Floss Coverage and Why it Matters

A Tip for Separating Floss that will Save You Money
Adding Bookmark Accents to Fringe
Metallic Floss Tips: 5 Tips for Stunning Results
How to Join Cross Stitch Sides
---
Home
› How to Cross Stitch