Santa Cross Stitch Alphabet 28


Want big, bold, one-word-says-it-all? The Santa Cross Stitch Alphabet fits the bill.
Whether the J and the L remind us of the curled up tips of an elf's shoe; or the plump, "round little belly" characteristics in the Bs, Ss and 3s...these letters have "Santa" written all over them.
On 11-count fabric, they're almost 3 inches tall; on 14, they're a bit over 2.
Change the floss color and add a couple of words, and "Santa" is transformed. In the "Noel" example shown below, "Alphabet 27 - Cutlass," with it's tall, lean letters and stylized tips, is the perfect letter set to accompany this alphabet.
"Santa"
Click here to enlarge
Click here or on the picture above for Santa Cross Stitch Alphabet 28, a printable PDF pattern. A new window or tab will open so you can continue here.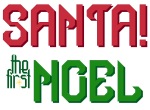 In the Design Example
When stitched on 14-count fabric using DMC floss:
use 2 strands for cross stitches
use 1 strand for backstitches
Description: Block letters, standard/straight
Characters Included
Upper Case Letters
Numbers
Punctuation
Height
The upper case letters are 29 stitches high.
Width
The majority of the upper case letters are 17 stitches wide.

Stitch Complexity
For the partial stitches that make up the angles, points and tips, use either 1/4 or 3/4 stitches. I prefer the 1/4, but it is strictly a matter of personal preference--try both to see which you like.
If you are unfamiliar with any of these stitches, follow the instructions and diagrams by clicking on the "Quarter Stitch", "Three Quarter Stitch", "Backstitch" or "Cross Stitch" buttons on the left menu, under the "Tutorials'" section.
Floss
Change the floss color to reflect your tastes and to coordinate with the rest of your project.
Cross stitch the main body of the letter, then the shadow. Next, with matching floss, backstitch the entire letter. Finally, backstitch the remaining shadow edges with the shadow floss color.
Try adding sparkle to the main body of the letters. Blend a metallic or specialty floss with your cotton floss. Or, use my preferred method: cross stitch with the cotton floss first, then overstitch using a strand of specialty floss. For the best contrast, use the cotton floss alone for the shadow.
If using these letters alone, adjust the number of floss strands to accommodate your fabric. If you need help deciding, click on the "Coverage" button in the "Tutorials" section of the left menu. If you are adding this to other stitching, use the same number of strands that you are using throughout the rest of your cross stitch pattern.

How to Fit Text into a Design
Learn how to select and adapt cross stitch alphabets by clicking on the "Alphabet 123s" button in the left menu, or click here.
Click here for a printable cross stitch pattern for "Santa" Alphabet 28".
A new window or tab will open with your chart.
---
Return from Santa Cross Stitch Alphabet Chart to Free Cross Stitch Alphabet Patterns
Return from Santa Cross Stitch Alphabet Chart to Better Cross Stitch Patterns Home Page