Christian Cross Stitch Patterns

Among our most cherished possessions are reminders of our Christian faith. With Christian cross stitch, from crosses to bookmarks to plaques decorated with bible verses, we give reverence to what these items represent.
As children we learn not to "hide it under a bushel," but to let our faith shine through our daily words and deeds. Putting our beliefs on display is just a small way to spread the good news.
Here you will find Christian patterns to give your family, friends and neighbors. You never know when such an object will give you the opportunity to share the Gospel or give comfort. Or when a simple gesture can be the beginning of the most wonderful friendship of all.
Click on each of the images below for a larger version.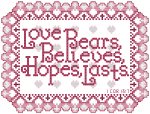 "Love is patient, love is kind, it does not envy..." -I Corinthians 13:4-8.
-Framed art, Greeting Card...-
"And go quickly, and tell his disciples that he is risen from the dead..."
-Matthew 28:7
-Framed art, Greeting Card...-

"In the beginning was the word, and the word was with God and the word was God." -John 1:1
-Two-sided Bookmark-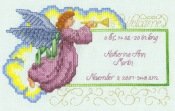 Angel Birth Record and Announcement
-Framed Art-

"The desert shall rejoice and blossom as the rose." -Isaiah 35:1
-Framed Art-

First Prayer
-Various Applications-
For many beautiful cross stitch designs featuring bible verses, please visit Joyful Expressions at www.joyfulexpressions.us. (Note the .us at the end.) There, Sandra Schueller offers, charts, kits and even custom works.
Be sure to return to our Free Cross Stitch Charts page to see our other patterns, nearly 90 of them, with more being added regularly.
Check back frequently, or better yet, subscribe to our blog to be notified automatically when we add to our site.
---
Home ›
Free Cross Stitch Charts
› Christian Cross Stitch