Baby Cross Stitch Designs

If you've been looking at my baby cross stitch designs, you might be asking, "So what is with all these hearts?"
I was well into exploring the pleasures and creating the treasures of counted cross stitching. I had completed several complex decorative projects as well as a host of smaller items.
Then ... a "baby-on-the-way" announcement!
That put me on a completely new path for my next cross stitch project.
My mom, almost thirty years ago, began a tradition of crocheting baby blankets for every grand- and great-grandchild. She customizes these blankets by embroidering them with the baby's birth record, names of sisters and brothers, ABCs, 123s, pet names, etc.--and whatever is important in that child's life at the time.
I liked the idea of creating something both useful and valuable, so it didn't take me long translate Mom's idea into a baby cross stitch tradition of my own. I was off! -- to find just the right baby cross stitch blanket designs. Unfortunately, nothing I saw was "just right."
My husband drove me to every craft and fabric store in my area (and even let me think that he enjoyed it as much as I did!). I poured over my sister's mail-order catalogs. I googled my way to every design, pattern, chart or graph that included the words "baby," "blanket," "afghan," "quilt" or "cross stitch."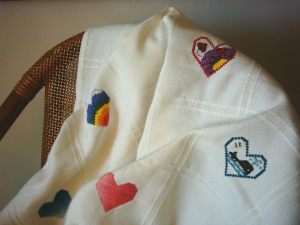 What did I discover? The designs I liked came in a kit with blankets that were either too big or too small. Designs sold separately didn't work on the blankets packaged separately. The patterns were printed, not counted. Hmmmm.
Many of the kits were specifically themed with characters from popular television shows and movies. Not to mention prices reaching for the stratosphere! In the immortal words of Charlie Brown, . . . "AAARRRGGGGHH!"
I was going to have to take matters into my own hands. I settled on the fabric--a 100% cotton blanket called an "Anne Cloth Afghan." Ivory in color, with two ends finished and the other two fringed, it is divided into squares with raised weaving. There are 7 squares wide and 9 squares long, each providing 5" x 5" 18-count stitching areas. This blanket looks and feels wonderful just the way it is!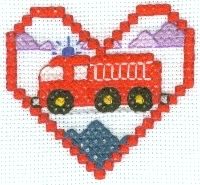 Now that I had the "canvas," it was time to decide on the "paint." While I like the traditional baby pastels, I thought that baby might be more stimulated by the bright colors seen in the toys around the nursery.
I wanted the afghan to become this child's "blanky," so I wanted designs that he wouldn't outgrow too soon; I also wanted ones that both girls and boys might like. Soon I had quite a few pictures drawn. But how could I make these images look like they belong together?
Pouring over a pile of craft magazines, I came across the answer. I saw a fabric photo album cover, cross stitched with a variety of patterned hearts. Some were striped, some solid, some dotted, some plaid. Different colors and patterns, but all were hearts. And with that, I had my unifying element.
Designing my own hearts was a snap!

My baby cross stitch designs begin!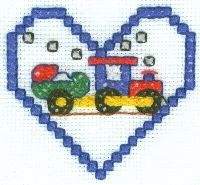 Every other square of my first afghan contains a heart. Some have a picture in them, like a train or a kitten. Some contain designs--zigzags and polka dots. I stitched still others solid with variegated floss, cross stitched so that the entire heart fades from light to dark.
The four corners have the four lines of our goodnight prayer. The center hearts have the baby's name-first, middle, last--with the birth statistics in displayed in the fourth.
Here you'll find lots of patterns to choose from and arrange them in your own way. Click here to find afghan layouts you can use.
Since then, I have found lots of uses for these little hearts. Bibs, booties, bottle covers. I'll add these ideas as quickly as I can, and maybe they'll inspire you, too!
---
Home
› Baby Cross Stitch